How Important Is Creating The Right Ice Cream Shop Menu?
Very. Since we are all complex individuals, let us start off by saying there is no ideal menu to suit everyone's needs. However, a menu is such a big part of the success of your store that you should put a lot of thought, effort and attention into when first creating it.
Menu is Marketing
Menu is just a list of products and prices. Your menu is your branding. It's something they read in the store and something they may take with them.  For that reason alone it makes sense to have your branding and logo on it. Imagine when they take that menu home and hang it on their refrigerator, everytime they walk by and see your logo on that menu they'll be reminded of your delicious creations.
Menu Matches Culture
When designing your menu keep in mind the culture of your store. The menu should reflect the personality and fun culture that makes up your store. Make sure it reflects the atmosphere you've built inside the store and has some character as a stand-alone piece. Remember menu matches culture and the dishes you are displaying on the menu should reflect that.
Be Visual
Help customers see the creations you offer by including pictures in your menu. Pictures sell and they can really help you sell the creations you can't have out on display all day. This is a very visual business and pictures can be a big part of your marketing. Beyond pictures for your menu you should be thinking about your social media channels and using your pictures to attract new customers.
Be Clear
Though you want a visually unique menu that stands out, it's important to clearly lay the content out. The last thing a customer wants is to be confused when reading the menu. Remember, people read left to right so you might want to think about placing the higher end items or best selling items on the left so people read them first. Product placement and legibility can have a big effect on sales for the best products you offer.
Price Elimination
Keep the focus on the product and not on the cost. You can avoid tire kickers and price shoppers by ditching the prices on the menu. If you do put prices on your menu, you should think about eliminating the dollar sign. The dollar sign can have psychological impact on the customer to avoid higher end products. Remember to always due your diligence and see what the competition in your area is charging. This doesn't mean you have to charge less, it just gives you a measure of price but does not take into account creativity and ingredients.
Be Creative
Be creative, don't be boring and copy other people's creations. One of the best parts of owning your own shop is that you can get creative and experiment with your own creations. You can be an artist and create your own editable masterpieces that will keep customers coming back. Make your products and business stand out from the rest. Use different ingredients and flavors to create unique products that customers can only get at your place.
Words Matter
You'll want to make sure you get creative with your words when describing your creations. Don't just settle for a direct description of what it is, try to convey how it will taste or how they will feel after while eating it. Get your thesaurus out and start using some delicious adjectives to describe the items throughout the menu. Think carefully about how you describe your sizes as well. Could you use something other than just small, medium or large.
It's going to be important to review your menu every season to review what's selling and not selling well. Analyzing your menu every year allows you to adjust your products, ingredients and pricing. If something didn't make you money last year perhaps eliminate it this year. By constantly monitoring and adjusting your ice cream shop menu you'll be setting yourself up for future success.
Read More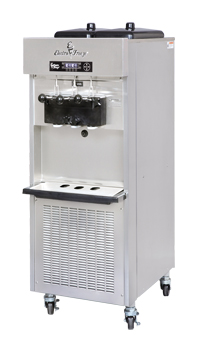 In the ice cream business you become familiar with certain terms such as overrun, product mix, pressurized machines and gravity machines. A Gravity or pressurized ice cream machine are types of soft serve frozen dessert machines that can be purchased to make your own soft serve ice cream, frozen yogurt, custard or sorbet. If you're looking to open a ice cream store or frozen yogurt shop then you'll need to decide whether to buy a gravity or pressurized ice cream machine for your store.
A gravity or pressurized ice cream machine? Each have their advantages and disadvantages over the other when it comes to product, price, volume, overrun, maintenance, texture and taste. Knowing the difference between a pressurized machine and a gravity machine and which one to purchase for your ice cream store will be a big decision that you cannot take lightly. So what's the basic difference between the machines? A pressurized machine uses (pressurized) pumps to pull the product from the hopper to the freezing chamber. A gravity machine will use gravity (no pump needed) to pull the product from the hopper to the freezing chamber.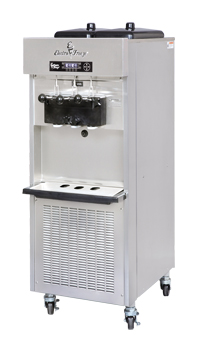 What's overrun? Overrun refers to the amount of air added to the finished frozen dessert mix. Think of it as almost the fluffiness and stickiness of the product. The maximum overrun you can achieve with a pressurized machine is around 70%. That means for about 1 gallon of mix, you'll get about 1.72 gallons of finished product. The maximum overrun you can get with a gravity machine is about 35%. So, if overrun is an important factor in your product then obviously a pressurized machine will do you justice.
Price: When it comes to investing in one of these machines, price should not be the only concern. However, since it's always on the forefront of everyone's mind, then a pressurized machine will run you a bit more than a gravity machine upfront. But what you also have to consider is the cost to run the machine over time and repair costs when the machine breaks down. A gravity machine will be a bit more economical in the long-term when you weigh these factors.
Maintenance: Maintenance plays a big part in how any machine functions over it's lifetime. If you want to spend less time cleaning and more time making product then a gravity machine might be for you. Gravity ice cream machines have a lot less moving parts (pumps) making it easier and quicker to clean between batches.
Volume: An important factor in your machine purchase will the amount of customers or the volume your store does. If you're running a high volume, high sales output then a pressurized machine will benefit you more because it can produce up to 25% more product per patch but remember, you're going to spend more time cleaning and maintaining the machine. If you're running a low volume soft serve store then a gravity machine will be ideal for you. It's making lower volume, saving you time cleaning and maintaining the machine, plus the upfront cost of the machine is cheaper.
Texture: If you're looking to produce a creamier, smoother texture with your ice cream then you should consider a pressurized machine. Remember a pressurized machine pumps more air into the product, producing overrun and the desired texture. Since there is less air added with a gravity machine the finished product will be a bit more dense and heavy. You also have to take into account the weight of the product you get with each. If you're selling ice cream by the weight, then a gravity machine might be best since the product will come out heavier and more dense.
Taste: Taste is the ultimate deciding factor. A gravity machine is definitely going to produce a more intense taste and flavor since there is less air being added to it. With a pressurized machine, you might be able to serve bigger portions but the taste may not be as intense.
Though a pressurized or gravity machine may look the same, they function differently and the product they produce is different. The Electro Freeze 400 (left picture) series are gravity machines that are know throughout the industry for their extreme reliability. The Electro Freeze 5099 (right picture) is a pressurized machine praised for its high volume and extreme reliability.
If you need more information about a particular gravity or pressurized ice cream machine then feel free to reach out to us so we can address any issues or questions you may have.
Read More