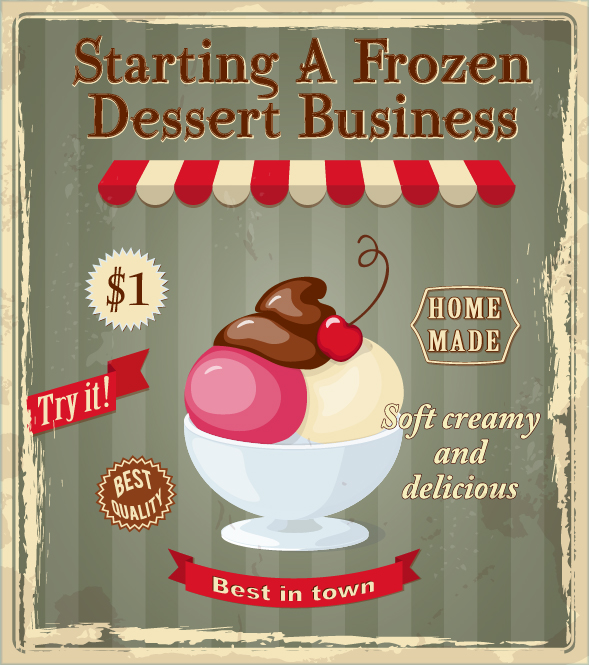 Starting a Frozen Dessert Business
If you're thinking about starting a frozen dessert business, ice cream shop or gelato store then you've picked a great time to get into this exciting business. There are many wonderful opportunities and options to consider when entering this business venture. This article will give you some things to think about and some things you might not have thought about when starting a frozen dessert business.
Know the the Competition
Before anything else, find out if there is a demand in your chosen area. If there is already a store in the neighborhood then explore their products and offerings to see if you can offer anything different. Just because there is already a store doesn't mean you can't open a new one and do things differently or better.
Get a Plan
Before you get into the nitty-gritty of figuring out costs, you'll need a solid plan on what type of ice cream/frozen yogurt shop you're planning on opening. There are two types that you can look into: a self service shop or full service shop. Full service means you and the machines are behind the counter creating desserts for customers. Typically you can charge customers a set price for certain sizes and products for this type of set up. A self-service store allows your customers to pour their own product and choose their own toppings. Typically with this type of set up you'll charge your customers per weight.
Consider Costs
Keeping costs low and yielding profits is the goal of any business.  It will be no different with your ice cream shop, however, you'll need start-up capitol to get your store off the ground first.  Estimates to start a new store range anywhere from $10,000 to well beyond $50,000. But start-up costs aren't the only thing to consider. You'll need to get a grasp on the operational costs involved in running the day to day. Supplies, inventory, rent, electricity all need to be considered into this factor. If you plan on hiring employees you'll need a plan on how to pay them and train them. Basically, you'll need to know how much product you'll need to sell every month to cover your expenses and turn a profit. Financing, whether through a bank or personal savings, will be a major hurdle figure out. How much you need to open the shop and support the operations until you start turning a profit will be something your investors may need to know before they loan you the money.
Location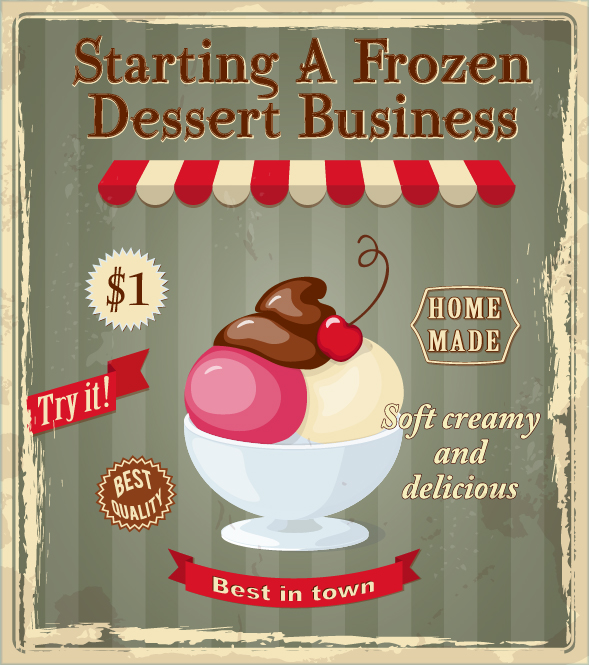 Obviously location will play a big part in the success or your store. If there is already a competitor within a mile or two then you may need to really consider the location a little harder as you don't want to be in an already saturated market. However, if that location is in a busy shopping area with a lot of foot traffic, is near other attractions or has high traffic, it could be an ideal location. You may be able to secure a lease from a property owner who has all the proper zoning a codes in place already, which could save you time and effort in the next step.
Local City Rules
Business rules and taxes vary from state to state, city to city. Having the correct paperwork, licenses and building permits will be necessary. Food services will need special licenses and permits from the health department showing your restaurant is clean and able to prepare and serve food safely. Meeting building and zoning requirements will all vary from city to city. Also, insurance can never be overlooked, so do your research on what type is needed and how much. Though this process can frustrating and terribly slow, it is vital when starting a frozen dessert business.
Equipment
The equipment you use to make and serve your product will have a huge impact on your customers and your shop. When it comes to choosing your equipment, you'll be presented with many options and choices. Knowing the different kind of machines, like gravity vs pressurized will play into what kind of store you plan to open (full service vs self service). The cost of machines can vary greatly but investing in higher end machines upfront, like the Electro Freeze brand, will mean less expense down the road. These machines will break down less, require less maintenance, provide a consistent product and deliver on quality. Be sure to partner with a distributor who can provide you the necessary resources to install, maintain and service the machines. Having a relationship with a company like
Electro Freeze Ohio
not only means your store and customer needs will be met from concept to completion but any future consultation, part or supplies can be fulfilled as well.
Suppliers
Having the right relationship with a food service supplier will help keep costs low and keep your product consistent.  The choice of ingredients and mix you use will determine the taste for your store. Not only will they be able to provide you with the food ingredients but also other supplies like cups, spoons, napkins and cleaning supplies. Initially, you'll need to decide on whether to use a dry mix or a liquid mix to make your product. Deciding between the two will align with your type of store, your machines, your costs and taste of your product.
Design and Branding
Branding is what will create loyal customers. The concept and layout of your store will have a huge impact on the return rate of your customers. You want to create a destination, not just another ice cream shop. Colors, layout, furniture and design will all work together to make a comfortable, friendly and inviting environment for your customers. When it comes to branding your store, start with the name and logo. The colors chosen for your logo should flow throughout the environment of the shop and the products you create. Nothing will create customer loyalty like branding your own products – make sure all your novelty products that you sell have carry your logo on it.
As you can see, there are a lot of things to think about and consider when starting a frozen dessert business. Running a business requires, time, money, commitment and resources. Luckily, there are companies like ADI EF that can help you with all of this. From your initial concept to serving customers, they can help with the entire process. Talk to them before taking your next step.
Read More